About McGee Lumber Company, Charlotte, NC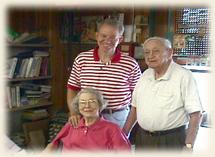 The story of McGee Lumber Company in Charlotte NC is a direct reflection of the story of America itself. An old, established lumberyard, McGee Lumber Company was sold from employer to employees and passed down from generation to generation.
McGee Lumber Company has sold highest quality lumber and milled wood products to thousands of retail and wholesale lumber buyers, contractors, craftsmen, and homeowners and has been selling lumber for longer than most natives can remember.
You don't have to be a contractor to do business at McGee Lumber Company. You just have to want the top quality lumber and milled wood products and expect top quality personal service.
With three generations of families now involved in a family-owned lumber supply business, two things have remained consistent throughout the years at McGee Lumber Company; top quality lumber, and a unique level of dedication to customer service.
Whether you are looking to buy an entire truckload of lumber or just a couple of pieces of wood moulding, you can count on personal and friendly service from owners who want your return business.
Great Service
We are careful about making promises to the folks who favor us with their business. But when we come to agreement with a customer and we tell them that we will do something, we have given our word and our word is very important to us. When we say "yes" we mean "yes" not "maybe" or "yes" unless something better comes along.
While nobody can ever guarantee against factors beyond their control, the people at McGee Lumber Company work very hard to fulfill our promises to our customers, suppliers, employees, to various governmental agencies that supervise us, and to the community at large.
McGee Lumber, High Quality Lumber In Charlotte NC
Our Location
Email Us
info@mcgeelumber.com