The McGee Lumber Company Difference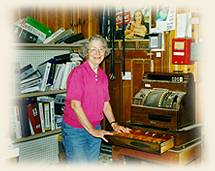 "In the highly competitive world of the mega-mall lumber store, the price of the lumber is sometimes Mrs. Davis', the current of 3 generations of management at McGee Lumber Company biggest concern," according to John Davis, president of McGee Lumber Company. "And it is easy to get trapped into knocking pennies off of the cost, at the expense of losing one's dedication to providing quality lumber and giving the customer the service that they expect."
"It's true... some people have become so accustomed to low quality product and the non-professional service of the mega-mall lumber store, that they will never become McGee customers", says John. "But we know that there are still a lot of people who remember the old adage, 'Quality and service are remembered long after price is forgotten'".
McGee Lumber Company serves a very wide variety of customers. Whether you are a high quality builder of office buildings and retail centers, a residential craftsman, a do-it-yourselfer who only wants the best wood products, or you just need a single piece of lumber for a one time project, McGee Lumber Company is eager to help.
McGee Lumber Company isn't the largest lumber company, but we pride ourselves on being the best in everything we do and every piece of lumber that we sell.
In most cases, we already have what you need. But we also bring in large shipments of lumber and specialty wood products for very large jobs. Regardless of the size of the job, we pride ourselves on the personal touch and provide the same quality products.
Great Service
We are careful about making promises to the folks who favor us with their business. But when we come to agreement with a customer and we tell them that we will do something, we have given our word and our word is very important to us. When we say "yes" we mean "yes" not "maybe" or "yes" unless something better comes along.
While nobody can ever guarantee against factors beyond their control, the people at McGee Lumber Company work very hard to fulfill our promises to our customers, suppliers, employees, to various governmental agencies that supervise us, and to the community at large.
McGee Lumber, High Quality Lumber In Charlotte NC
Our Location
Email Us
info@mcgeelumber.com